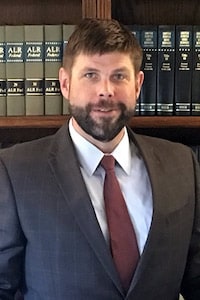 David Gunn
The mission statement of my company is to leave every client in a better place than where I found them. I am very passionate about the people whom I serve. Law is a very adversarial process: there are usually winners and there are losers. Bankruptcy gives me opportunity to go up against corporate money lenders who do everything in their power to squeeze as much money out of people as possible. I use the legal system to give my clients relief from overwhelming debt and relentless debt collection. Good people go through hard times and I am here to help them.
Non-Legal Activities
I love to scuba dive. I do not do it professionally but I am a certified Dive Master. I have a wife and three beautiful children. I try to spend as much time with them as possible when I am not working.
Education
J.D., University of Missouri-Columbia School of Law, 2003
Specialization in alternative dispute resolution
Honors: Certificate in Dispute Resolution
B.A., University of Missouri, 1999
Specialization in cultural anthropology
Jurisdictions Admitted to Practice Missouri Bar, 2003
U.S. Court of Appeals 10th Circuit, 2003
U.S. District Court, Eastern District of Missouri, 2004

Professional & Bar Association Memberships
The Bar Association for Metropolitan St. Louis
Member Since: 2017
Pro Se Assistance Program, Steering Committee Member and Co-Manager for the Post-Filing Volunteers
Member Since: 2017
Local Rules Advisory Committee for the United States Bankruptcy Court for the Eastern District of Missouri
Member Since: 2015
Representative Clients
I had the opportunity to serve a Ms. Latoya Stewart, who was the victim of legal malpractice by a company known as Critique Services. My client settled her personal dispute with Critique but the bankruptcy court awarded me approximately $20,000 in attorney fees due to Critique violating certain orders from the bankruptcy court. I had agreed to represent Ms. Stewart pro bono (meaning to work for her for free out of charity), so I donated this money to the Saint Louis Bar Foundation so it could be used as seed money to start the Pro Se Assistance Program. I was not personally responsible for Critique Services going out of business, but Ms. Stewart's case drew the attention of the Missouri Attorney General. The Attorney General's Consumer Protection Division sued Critique Services, which resulted in a settlement whereby Critique willingly closed its doors.
The case went all the way to the 8th Circuit Court of Appeals, which is one step below the US Supreme Court.
More about the suit by the Missouri Attorney General can be found at: molawyersmedia.com